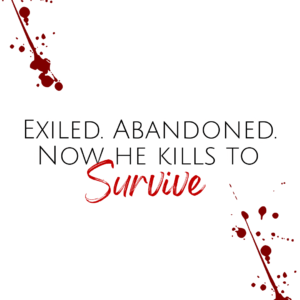 Detective Drake Blaine has always lived by the rules…
Law. Order. There wasn't room for anything else, especially when death was always knocking at his door. He believed in the tried-and-true method, being raised a cop his whole life he wanted nothing else. Until that night.
He saw him—Raven.
Trussed up in ropes and chains, struggling—begging for something more. Drake's body had seized, his heart jammed into his throat as his ex-best friend and ex-partner were caught in rapture in a scene at a BDSM nightclub. Darke couldn't believe it, but there he was.
A fire had burned red hot in his gut and Drake knew this would be the end of him.
Cold. Cunning. Raven's dead eyes could make even the strictest of men stir to life. The Raven he knew was a walking disaster, striding on the edge of a rusty knife, mistaking extreme humiliation for love and affection.
This was a world Drake wanted no part of.
But he finds himself drawn deeper.
Drake was an alpha's alpha. Too upstanding, too righteous for his own good.
He would never fall prey to such deviance. Drake would never bend.
Not in this lifetime.
But he should have known, Raven didn't want him to bend.
Raven wanted Drake to break.
Warning: this is a slow burn steamy BDSM romance, possessive alpha male, obsessive romance, second chance romance with graphic violence. Please be advised. 


Coming 07/29