I have read a lot of romance novels, and I can say that the emotion is real. I've found what I love in these gay romance books; you feel the heat, you long for more and you wish they were real. These books possess you and meet your needs with passion and desire that burns brightly within their pages.
Finding a great gay romance book can be like finding the pot of gold at the end of a rainbow. The stories are vivid and passionate, the characters are engaging, and the sex scenes are hot enough to make you blush.
1. Boy in the Club: Boy & Billionaire #1 By Rachel Kane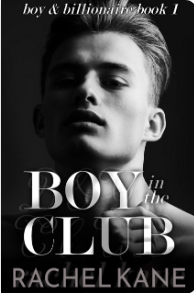 The scarred boy was off-limits, but billionaires don't play by the rules.
Colby Raines–rich, heartless, cold–has given up on emotions. The last place he wanted to go was the club, surrounded by men who would pretend to worship him. He looks at them and feels nothing.
Enter Finn–sweet but damaged in ways he cannot describe. Disfigured by a scar from a tragic accident, the serving boy should have been invisible to rich and powerful men. But from the second Colby sees Finn, he can't look away.
But Finn is forbidden, controlled by the club's evil and powerful owner. Colby knows he should walk away. He doesn't do emotions, no matter how pretty a package they come in. But he's got a protective streak a mile wide, and when he learns of the danger Finn is in, he'll stop at nothing to keep him safe–and make him his.
If you like tear-jerkers, this is one of the best. It's intense, emotional and truly makes you feel for the characters. There are quite a few twists in the plot, but it's not too confusing. The storyline has some parts that seem out of character at times, but considering how much struggle the main character goes through you can understand why he does what he does. Overall, a great book!
2. Stalking My Mate: Assassins Inc. #5 By Stormy Glenn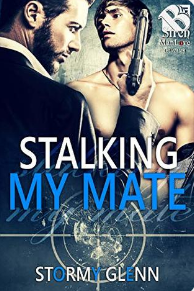 Stalker – I was stalking my mate and I had good reason. He was bonded to someone else, but that didn't absolve me of my duty to him, or my obsession. Making sure he was happy and safe, even if it wasn't with me, was just something I had to do. When I discovered he wasn't, all bets were off.

Jojo – I'd given up the dream of a mate in exchange for the life of my son. It was an exchange I willingly gave to have Tommy with me. When our lives were threatened, escaping with Tommy was my only option. I just wasn't sure where we were going to escape to or who could help us, but someone had to. I'd already lost my mate. I couldn't lose my son.

[Siren Publishing: The Stormy Glenn ManLove Collection: Alternative Contemporary Paranormal Romance, MM, shape-shifter, HEA]


I love a good stalker romance. Nothing says romance more than following your love interest home. Just kidding! But because I am a lover of all things dark romance, when I stumbled across this tale of the madness of obsessive love, I was hooked.
3. Handsome Death By Sara Dobie Bauer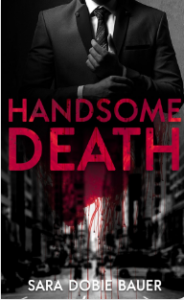 I'm not hunting him; I'm protecting him.
At least, that's what I tell myself.
In New York City, a beautiful creature like Tristan Clement should not be walking the streets alone, and I'm the perfect vampire to watch his back.
But what if keeping him safe isn't enough anymore? What if I want to touch? And taste?
I need him. But I've never needed anyone.

—————

In a world where paranormal creatures live amongst us and must follow certain laws, living life as a dangerous loner works for vampire Ethan. Inhabiting his gleaming apartment, wearing his designer suits, jetting around the world as a fanged killer-for-hire, Ethan does it all alone.

That is, until he literally runs into Tristan. Tristan, who is clearly trouble wrapped in skinny jeans and an oversized sweater. Tristan, with his shock of angelic blond curls. Tristan, who plays piano more beautifully than the old masters– and Ethan would know; he saw Beethoven.

Tristan is gorgeous, a little sassy, and irresistible. Also, Ethan is horrified to note, Tristan has no idea how incredibly tempting he is to things that go bump in the night.

Overcome by the urge to keep Tristan safe, Ethan begins to… well, stalk is such a strong word. What starts as an obsession quickly becomes something more, something that Ethan needs. And to his surprise, Tristan seems to need him, too…

This darkly romantic tale delivers steamy passion and a happily ever after. Be advised that Handsome Death includes explicit m/m content, stalking, mentions of past abuse, and graphic violence.

Very good book! I really enjoyed it! You'll feel like you're living inside the mind, heart, and soul of a person with this book.
4. Wicked Seal: Wicked Daddies #1 By Neya Wara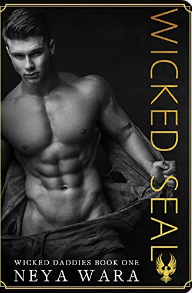 A whole heart is beautiful. But, a broken heart… is the talk of legends.
With an ex-daddy that doesn't know how to take no for an answer, Lead singer of Majestic Rage, Silas Jarek, is done with relationships. But forced to visit an auction by his bandmates, he's instantly attracted to Daddy Mike.

His heart can't take the scars that his ex left but it can't seem to forget Daddy Mike either.

Mike is forty, has had more failed relationships than he likes to admit, and somehow gets roped into being auctioned off to help a friend.

Silas is a breath of fresh air. Mike is instantly drawn to him.

The only problem—he won't bid.

But Daddy Mike won't let him get away that easily. He's determined to explore their magnetic attraction and heal Silas' broken heart.

He'll do anything to keep him safe.

Even kill.

Wicked Seal is an MM romance featuring two men looking for love, healing their souls, and finding their forever. It's the first book in the Wicked Daddies series, and it can be read as a standalone. It has a suspense sub plot without cliffhangers. Please check the trigger warnings in the front of the book.

NOTE: Reader discretion is advised. This book contains mature content, and a theme/topic some may find offensive, distressing, and a potential trigger.
Every book in this series will make you want to lock yourself away with your other half. A possessive alpha hero, a sweet and funny heroine, an over-the-top happy ending, and a steamy romance. That's all I have for now! What's your favourite book?